Products Main Page
30 Day In-Home Trial
Our 30-day, in-home, risk-free trial works very simply and easily. We will ship you any equipment that you wish. You use it in your own home to listen to your familiar music, in your own listening room, with your own associated audio components for up to 30 days.
If you are not satisfied with the equipment for any reason, we insist you return it as we only want and have happy customers. You can relax when working with us knowing that you won't get stuck with anything you don't like.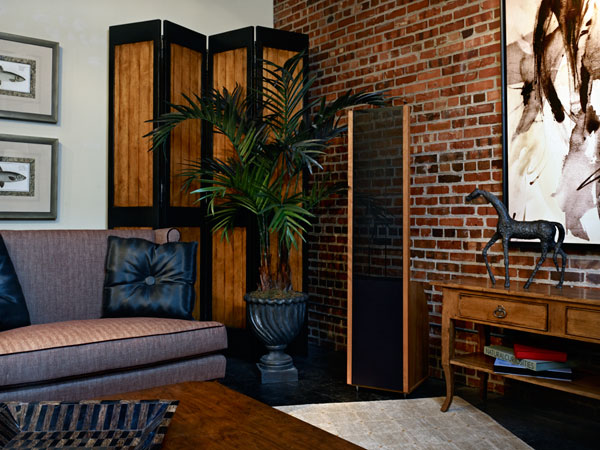 Sanders Sound Systems Model 10 Electrostatic Speakers in cherry
This is a much better way to audition equipment than going to a dealer's showroom where you listen in a strange environment for only a few minutes. You can only really get to know audio equipment by living with it for at least several days in your own home where you can use your own familiar equipment and listening room and have plenty of time to listen to much of your music collection.
Our equipment is modular so it can be handled by one person and shipped by UPS directly to your door. No trucking firms, palletized shipments, lift gates, or truck docks are involved and you need not be home to accept delivery.
Shipping time is about one week to most anywhere in the world. Tracking is available so you can follow your shipment and will know exactly when it will arrive.
Amplifiers
DESIGN PHILOSOPHY

Conventional amplifiers have serious problems when forced to drive

electrostatic loudspeakers

. Roger Sanders has developed the first amplifier specifically designed to drive these unusual speakers.

A magnetic speaker presents a resistive/inductive load to an amplifier, while an

ESL

appears mostly as a capacitor.

We have developed both the ESL amplifier and the Magtech amplifier to meet these demands. Our pre-amplifier has been designed to match the faceplates of our amplifiers.

Amplifier and Preamplifier in Silver
WHAT IS THE DIFFERENCE BETWEEN THE ESL AMPLIFIER AND THE MAGTECH AMPLIFIER?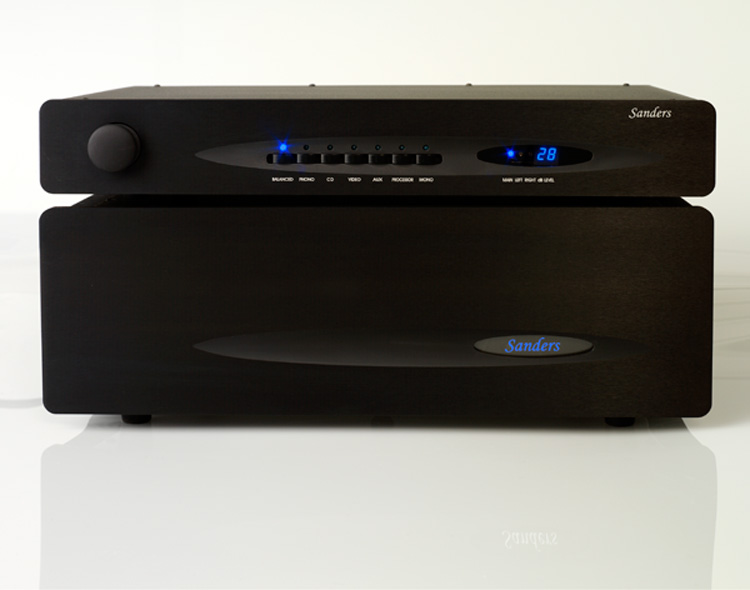 ---
Both the ESL and Magtech amps use the same special amplifier modules that Roger designed to drive electrostatic speakers. The difference between the two is that ESL amps use a conventional, free-floating, unregulated power supply while Magtech amps use Roger's unique, 100% efficient, linear, regulated power supply.

Magnetic speakers draw tremendous current from an amplifier and that causes the internal power supply voltages to fluctuate dramatically in response to the music (typically by about 30%). This reduces the power from the amp and causes the distortion and bias to be modulated by the music.

A regulated power supply maintains stable internal voltages at all times. This is a tremendous improvement over a free-floating power supply. All amplifiers should use regulators, but virtually none do because their designers have not figured out how to make a powerful regulator that doesn't waste vast amounts of heat. Our regulator is unique in that it runs cold and wastes no heat. So we offer virtually the only regulated power supply amplifier on today's market.

Electrostatic speakers operate on voltage, not current. So they don't cause major fluctuations in the internal voltages like magnetic speakers do. But they will still cause some voltage modulation and mains voltage is not stable either. So even electrostatic speakers will benefit from an amplifier with a regulated power supply.
A regulated power supply will provide the best performance, so most of our customers (even our electrostatic speaker customers) opt for the Magtech. We keep the ESL amp in our line-up because it costs less than a Magtech and so represents a tremendous value. So those customers for whom money is a major concern, use the ESL amp instead of the Magtech.

In summary, the Magtech amp is the best for all speakers because it not only has the electrostatic amplifier modules, but it also includes a regulated power supply. So unless money is a major concern where the value of the ESL amp is essential, Roger recommends the Magtech.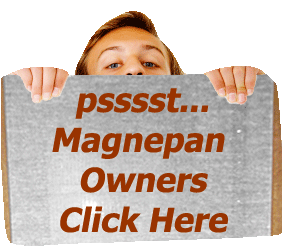 Electrostatic Speakers
DESIGN PHILOSOPHY
Roger Sanders built his first ESL (ElectroStatic Loudspeaker) in 1972. He quickly appreciated the superior performance that a massless electrostatic offered over conventional magnetic speakers with regards to low distortion, lack of resonances, and incredible detail. But their problems of limited output, inability to produce deep powerful bass, and unreliability have kept him busy improving them over the last 30+ years.
The result of this lifetime of work is that Sanders Sound Systems ESLs are the only ones to have solved all the problems and limitations of ESLs. Roger's "Ultrastat" panels will play at ear-bleeding levels, cannot be arced, do not use or need protective circuitry, are immune to humidity, dust, and dirt, and do not need or use dust covers. They can be driven by multi-thousand watt amplifiers without damage. They are more rugged than conventional magnetic drivers. They do not fail and are so robust that they come with a lifetime warranty.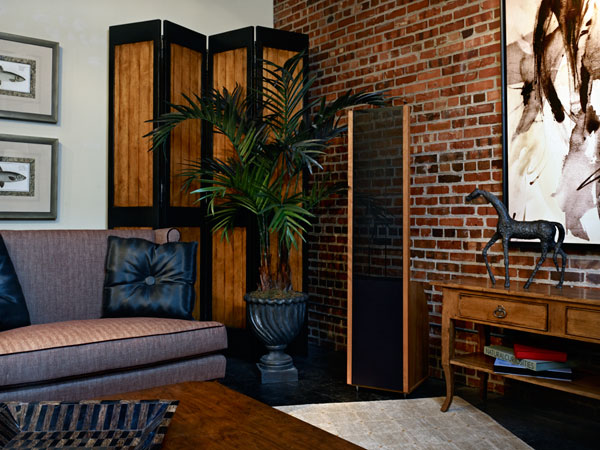 The Absolute Sound has Awarded our Model 10c Electrostatic Speakers
(click image below to view award)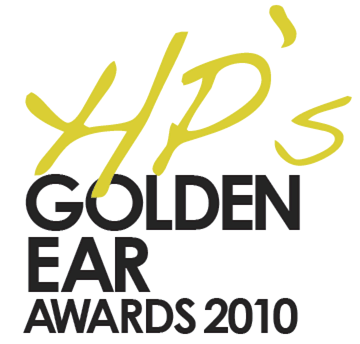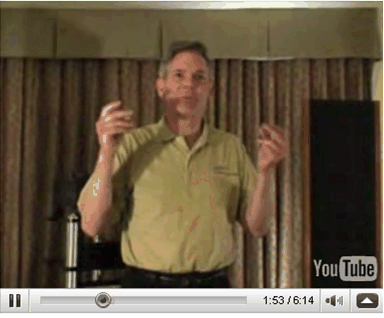 "Roger Sanders, inventor of the curved electrostatic loudspeaker, will make you rethink everything you always thought you knew about stats. He sure did (rethink everything) to the point of abandoning his own invention for a contradictory philosophy. His logic is irrefutable, his speakers are infallible, and his electronics are unstoppable. Check out this video for a crash course on electrostatic myths and mating." - Audiogon
A major part of his work was devoted to dealing with the issue of high frequency "beaming" in large, planar loudspeakers. To deal with this issue, he invented the free-standing, curved, electrostatic panel. This made it possible to widely-disperse the high frequencies from a large ESL. He published this invention in Speaker Builder Magazine in 1980. The Martin Logan company adopted his technique in their ESLs.
Roger expected that his wide-dispersion, curved panels would perform better than narrow-dispersion, planar speakers. But he discovered that the curved panel was inferior to a planer one with respect to transient response, imaging, frequency response, speaker placement, and output. These problems caused by wide-dispersion speakers spraying their sound all over the room instead of being directed at the listener. As a result, in a wide-dispersion speaker, the listener hears the room with all its confused and delayed reflections instead of the superb sound available directly from a planar ESL. Roger won't compromise the quality of the sound by using his wide-dispersion design, so he abandoned it in favor of planar ESLs. The sound from his planar speakers are superior to all others with regard to transient response, 3-dimensional imaging, and frequency response.
Full-range, crossoverless ESLs are widely believed to be the "holy grail" of loudspeakers. In theory, using a single drive to reproduce the entire audio range, without the problems introduced by crossovers, would be ideal. Roger has built many such speakers. But the laws of physics cannot be circumvented. A full-range ESL simply cannot produce deep, powerful bass or have generally high output and full dynamic range.
Roger spent 17 years developing woofer systems that would blend seamlessly with a massless ESL to produce outstanding bass and end the frustrating limitations of full-range ESLs. His well-designed, hybrid systems are far superior to a full-range, crossoverless ESL.
While building and selling full-range ESLs is easier and less costly than a hybrid, Roger won't compromise . Therefore all Sanders speakers are hybrids.
Crossovers are a major limitation in conventional speakers. The passive crossovers typically used are seriously flawed and cannot be used if you want a speaker with the highest possible performance. Electronic crossovers and bi-amplified operation are far superior to passive crossover systems and are absolutely essential for spectacular speaker performance. Therefore, all Sanders' speakers come with electronic crossovers and bi-amplification.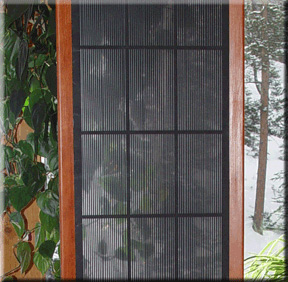 ---
W

e supply an amplifier and electronic

crossover with each speaker system.
---
To eliminate the usual customer complaint about having to buy two amplifiers to operate bi-amped speakers, Sanders supplies a bass amplifier as part of each speaker system. The customer then only has to provide a single amplifier of his choice just as they would for any conventional speaker system.
These amplifiers are not cheap, underpowered, or Class D switching amplifiers. They are multi-hundred watt, Class AB amplifiers that are very expensive, offer the finest in performance, come in beautiful chassis, and will drive the speakers with full dynamic range at realistic, concert hall levels.
When a speaker system is put in a room, it will interact with the room and this will have adverse effects on the sound. Even a "perfect" speaker system will be degraded by the room. It therefore is essential for all speakers to be adjustable to compensate for room effects. The electronic crossovers used in Roger's speaker systems have extensive controls to allow the user to adjust the speaker to compensate for the flaws in his listening room.
This adjustability means that the user can make the speakers sound almost any way they wish. It is no longer necessary to be "stuck" with the particular sound of a room/speaker combination as is the case with conventional speakers. If you don't like what you hear with Sander's
electrostatic speakers
, you can adjust them so that they sound the way you like.
In summary, Sanders' speakers use the finest technology and design possible.
---
No compromise is made to either to reduce cost or sacrifice any aspect of speaker performance. The combination of electrostatic mids/highs, transmission line woofers, and fully adjustable electronic crossovers makes it possible finally to have a speaker system that can do it all without compromise.
We now have three models available:
10c Full size speaker with digital crossover and Magtech Amplifier (left)
10d
Latest version of Model 10
with new bass driver and revised transmission line digital crossover and
Magtech Amplifier
(left)
11 Smaller version of the 10c; with digital crossover and ESL Mark II Amplifier (right)



10d - Latest verison of the Model 10 speaker


with new bass driver and revised transmission line, digital crossover and Magtech Amplifier; offered at $15,000.

The Model 10d will be offered in addition to the Model 10c and Model 11.
Two wood finishes available: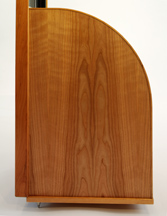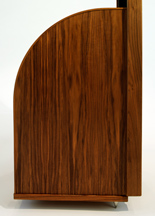 Shown on left is a Model 10 in Natural Cherry & on right is a Model 11 in Natural Walnut
BEHIND THE SCENES
Contact Us
CONTACT US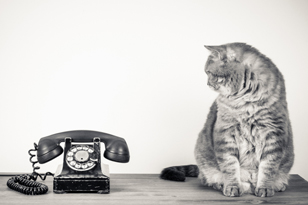 Sanders Sound Systems
12054 Deer Trail Road
Conifer, CO 80433
303-838-8130
Roger Sanders
This email address is being protected from spambots. You need JavaScript enabled to view it.
or
This email address is being protected from spambots. You need JavaScript enabled to view it.
We ALWAYS answer our emails promptly. If you have a spam filter, please add sanderssoundsystems.com to your email white list. If you don't receive a reply, check your spam filter and of course, you can call us anytime.
ESL Mark II Amplifier
Price: $4,500
This amplifier will deliver more than 2000 volt-amps per channel into an ESL, and when driving magnetic speakers, the ESL amplifier will deliver over 400 watts/channel into an 8 ohm load and 780 watts into a 4 ohm load.
The Sanders ESL amp Mk II is the latest in a long series of upgrades to improve this unique amplifier that is designed to drive the most difficult of all speaker loads -- electrostatic loudspeakers (ESLs). This is an extensive topic that is covered in the "White Papers" section on this website, so please refer to those papers for technical details.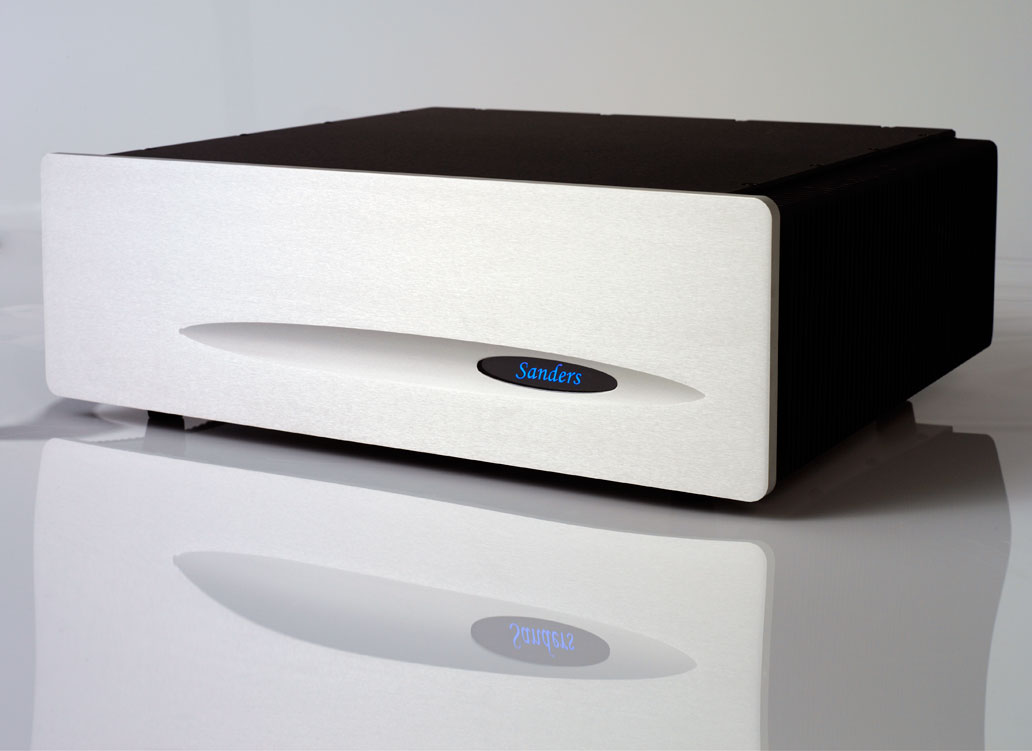 The ESL amp originally was designed in 1998 by popular demand in response to electrostatic speaker owners' request for an amplifier that could drive this type of speaker well. Since the most common type of speakers are the magnetic speaker types, most amplifier manufacturers do not design their amplifiers for electrostatic speakers. As a result, most have problems driving these difficult speakers.
In essence, the ESL amp solves this problem by using such a massive output stage (20 large output transistors, which are able to deliver 7,000 watts) that the transistors are never stressed by the demanding load of an electrostatic speaker and therefore protective circuitry is not required or used. Additionally, the amplifier can safely drive an 1/3 ohm load, which is often seen in ESLs at supersonic frequencies.
Since it is protective circuitry that causes the harshness and stridency usually heard in transistor amplifiers, eliminating it is the key to producing superb sound quality. The result is a solid state amplifier that sounds as smooth and rich as tube amplifiers, but without the impedance and voltage problems that tubes have when driving ESLs. For more information on this topic, please see the "Tubes vs. Transistors" White Paper section on this site.
Tubes vs Transistors Whitepaper

Additional features of the ESL amp is that it has been designed to be compact enough to be placed on a shelf and it is very efficient so that it runs just slightly warm. This high efficiency eliminates the waste of massive amounts of electricity like most amplifiers. It does not heat your room, so does not require additional waste in the form of extra air conditioning.

The new features that produce the Mk II version of the ESL amp is the use of a new, higher voltage, more powerful power supply transformer and the use of Thermal Trak transistors. The new toroidal transformer is potted in epoxy and covered with a metal shield so that there is no stray magnetic fields to cause hum. The additional power and voltage increases the power to over 400 watts/channel into an 8 ohm load and to 780 watts into a 4 ohm load.

This has special significance when driving ESLs, which are actually driven by voltage, not current as is the case with magnetic speakers. The ESL amp Mk II can drive 64 volts (RMS) into an ESL. This will play them at very loud levels and makes it possible to reproduce dynamic music at live levels with ESLs that are capable of such performance.

The bias levels in conventional solid state amplifiers are highly unstable. This is due to the fact that the bias is highly variable depending on the temperature in the output transistor junctions. The junctions are very small, so sudden large changes in the electrical current passing through them will cause an instantaneous and dramatic increase in the bias.

Well designed, conventional amplifiers try to deal with this by sensing the temperature of the heat sinks upon which the transistors are mounted. But it takes several minutes for the heat in the transistor junction to soak into a massive heat sink and change its temperature.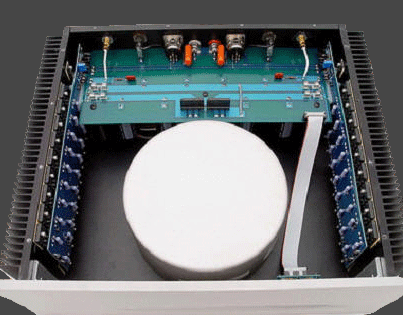 As a result, monitoring the heat sink temperatures can only control the average bias over time, not the instantaneous junction temperatures. Therefore it is common for the bias in a conventional amplifier to vary by several hundred percent despite heat sink temperature monitoring.

Since transistor junction heat causes an increase in the bias current, and bias current causes an increase in the junction temperature, "thermal runaway" can occur and the transistor will fail due to excessive temperature. Protective circuitry usually is necessary to prevent this.

But the recent development of "Thermal Trak" transistors solves all these problems. Thermal Trak transistors have a microscopic temperature sensor built right into the junction of the transistor. It is therefore possible to monitor the temperature of the transistor junction in real time and use that information to adjust the amplifier's bias instantly to maintain an absolutely stable bias current under all conditions. This assures that the bias will always be at an optimum level with no chance of thermal runaway.
The result of using Thermal Trak transistors means that the Mk II ESL amplifier's bias can be optimized for extremely low distortion levels with minimum heat production. It also means that the warm-up time for the amplifier (where the bias is optimal) is only a few of minutes instead of several hours.
FEATURES
The quality of construction is typical of the finest components being made today.

No capacitors are used in the signal path.

The amplifier runs very cool.

Resistors are high-reliability, precision, metal film, 1% tolerance.

A massive output stage using 20 transistors makes the amplifier extremely rugged and reliable. It will drive the most difficult (low impedance and reactive) loads without strain or damage, which is why it is ideal for driving electrostatic loudspeakers.

Connectors are gold or rhodium plated.

Both unbalanced (RCA) and balanced (XLR) input connectors are standard.

The finest quality, German, gold-plated, WBT binding posts are used. These are widely spaced and positioned at a 45 degree angle for ease of use and speaker cable routing.

The amplifier is modular in construction for easy servicing or upgrading.

The line voltage is user-selectable from the rear panel so the amplifier can be used anywhere in the world without having to be modified at the factory for different voltages.

Available with either black or silver face plates.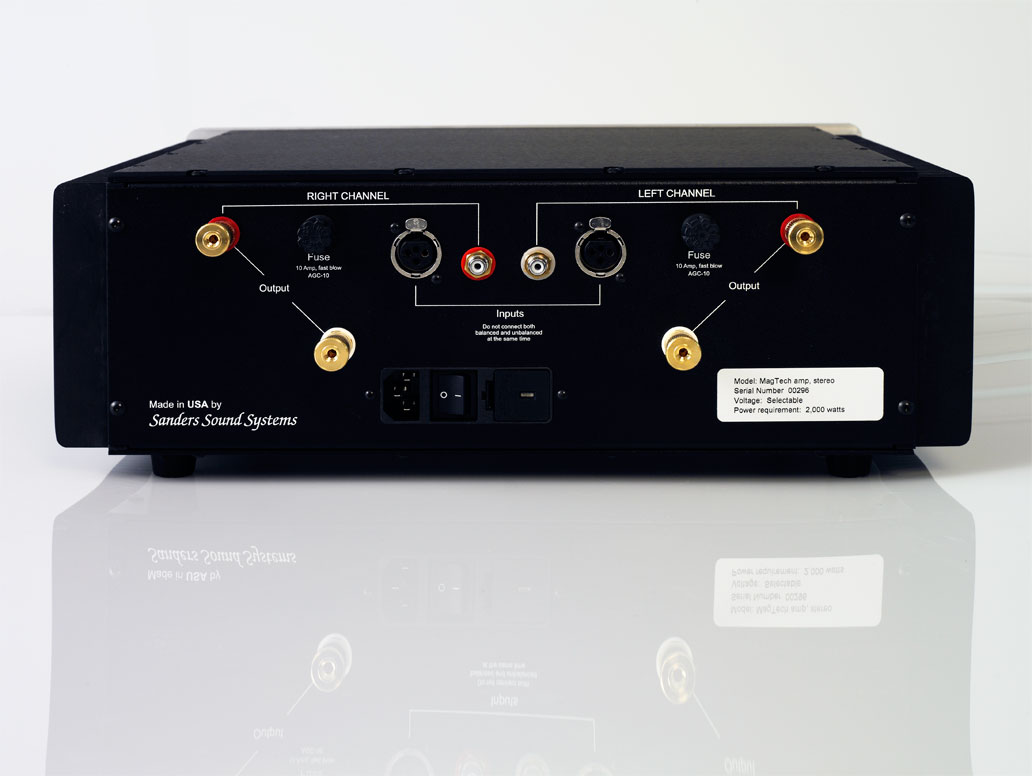 SPECIFICATIONS OF ESL MARK II AMPLIFIER
Power (Stereo Version)
both channels driven from 20 Hz to 20 KHz

400 watts RMS per channel into an 8 ohm load
780 watts RMS per channel into a 4ohm load

Bandwidth

DC through 100kHz

Class of Operation

Class AB

Slew Rate

500 Volts/microsecond

Input voltage required for full output

2.2 Vrms

Input Impedance

100 K unbalanced
1 K balanced

Gain

26dB

Noise

More than 120dB below rated output

Damping Factor

Greater than 800 into an 8 ohm load

THD

Less than 0.01% at rated power and full bandwidth.

Typically less than 0.0028% at small signal level

Voltage

Voltage is user selectable for use world-wide.

IMD

Less than 0.01% at rated power and full bandwidth.

Typically less than 0.0028% at small signal level
Weight

55 pounds (25 Kgs)

Dimensions

17" wide x 5.5" tall x 16" deep (43cm x 14cm x 40.6cm)
Speakers and Electronics are manufactured in Conifer, Colorado.