ESL Monoblock Amplifier
Price: $9,000 pair

The Sanders Sound Systems ESL amp is now available as a Monoblock power amplifier. Performance is similar to the ESL amplifier with the exception of dramatically increased power output capability! As with the Sanders Sound Systems ESL amplifier, the ESL Monobloc offers superb build quality, superlative sonics with extremely high output capability.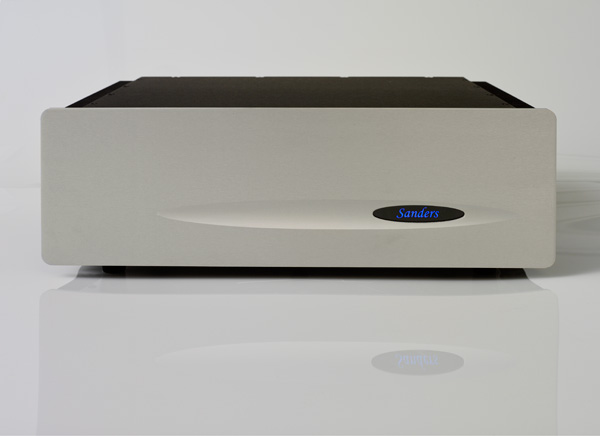 FEATURES
The quality of construction is typical of the finest components made today

All exterior and interior aluminum parts are anodized. Steel parts are powder-coated

Resistors are high reliability, precision metal film, 1% tolerance.

Capacitors are of the highest quality, and none are used in the signal path.

Connectors are gold plated. Both balanced and unbalanced connectors are standard.

Wire has been eliminated wherever possible. Where wire is necessary, it is silver-plated copper, 141 strand, 18 gauge, with silicone insulation.
SPECIFICATIONS OF ESL MONOBLOCK AMPLIFIER
Power

1000 watts RMS into an 8 ohm load
1600 watts RMS into a 4 ohm load

Bandwidth

DC through 100kHz

Class of Operation

Class AB

Slew Rate

500 Volts/microsecond

Input voltage required for full output

2.2 Vrms

Input Impedance

100 K unbalanced

1 K balanced

Gain

26dB

Noise

More than 120dB below rated output

Damping Factor

Greater than 600 into an 8 ohm load

THD

Less than 0.005%, 20 Hz - 20 KHz.

Voltage

Voltage is user selectable for use world-wide.

IMD

Less than 0.004%, 20 Hz - 20 KHz
Weight

55 pounds (25 Kgs)

Dimensions

17" wide x 5.5" tall x 16" deep (43cm x 14cm x 40.6cm)
Speakers and Electronics are manufactured in Conifer, Colorado.