Model 10
We now have two versions our our Model 10 available.
The Model 10 electrostatic speaker is Sanders' flag ship. It is the best speaker Roger knows how to make after 30+ years of research, design, and testing of electrostatic speaker. This is simply a no-compromise electrostatic speaker that solves all the problems that plague other electrostatic speakers.

Model 10c

Price $14,000


This price includes:

Electrostatic Speakers

Magtech Amplifier

Digital Crossover

Model 10d

Price $15,000

This price includes:

Electrostatic Speakers with 1) new bass driver and 2) revised transmission line.

Magtech Amplifier

Digital Crossover
---
The Model 10 will play at concert hall levels and can be used with multi-thousand watt amplifiers without arcing or damage. No protective circuitry is used or needed. It will reproduce the full dynamic range of any music without strain. Deep powerful bass is assured with the use of a transmission line woofer system. The woofer system has been specifically designed to stop and start faster than other woofers so that perfect integration with a massless ESL finally is achieved.

Passive crossovers are not used as they are seriously flawed and degrade the performance of any speaker. Expensive electronic crossovers and biamplification are used to achieve spectacular levels of performance.

This speaker practically disappears into the room, both sonically and visually. This helps with the age old problem of the speakers taking over the room. This integrated speaker system will be a worthy anchor of a reference-level high-end audio system of the highest performance possible.
---
MORE ABOUT OUR NEW MODEL10d SPEAKER
what is new? 1) new bass driver 2) revised transmission line design
In our quest to produce even deeper, more dynamic, and more powerful bass, we now offer the Model 10d speaker system. This model uses a driver with an ultra powerful motor combined with a truly massive magnet structure and lightweight aluminum cone for incredible bass performance.

When this new driver is combined with a revised version of our transmission line technology, active digital crossovers, deep bass equalization, and the 900 watts of power available from our Magtech amplifier, the bass performance is truly State Of The Art.

Extremely stiff and rigid aluminum cone gives tremendous bass precision. The cone and the long throw low loss rubber surround show no sign of the familiar cone edge resonance and distortion associated with soft cones.

Lead-out wires symmetrically stitched to the spider to avoid resonances. Total suspension designed to assure stability for extreme excursions.

2-layer, extremely long, high temperature voice coil wound on an fiberglass voice coil former gives a high power handling capacity.

Cu-cap around the pole pieces reduce non linear and modulation distortion and increase overload margin.

Extra large magnet system provides high efficiency and low Q.

Extremely stiff and stable injection molded metal basket keeps the critical components in perfect alignment. Large windows in the basket both above and below the spider reduce sound reflection, air flow noise and cavity resonance to a minimum.
---
FEATURES OF BOTH OUR MODEL 10c and MODEL 10d SPEAKERS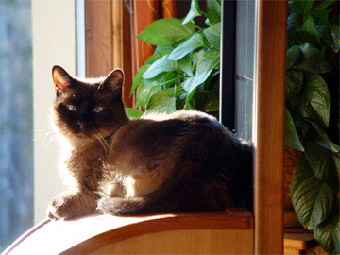 Perfect Insulation
The amplifier cannot damage the Ultrastat panel.
No protective circuitry required.
Panel is arc-proof.
Extremely rugged and durable.
Immune to dust, dirt, humidity, insects, pet fur, and foreign objects.
Higher sensitivity (94 dB)
Highest precision - made with computerized diamond routing equipment.
Greater percentage of open area and visual transparency.
More attractive appearance than perforated metal designs.
Voltage is user selectable for use world-wide.
Highly efficient operation permits the electronics to be left on continually without concern for electricity usage
---
Both the Model 10c and Model 10d perform like a full-range, crossoverless ESL -- but with the deep powerful bass and high output that is simply not available from non-hybrid, full-range ESLs. In short, you can have it all. You no longer have to compromise high output and deep bass for the purity of a full-range ESL.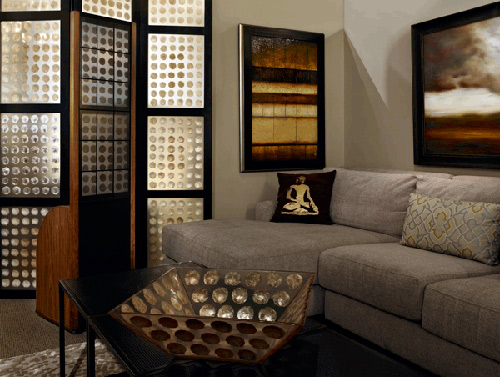 The digital crossover is just that -- a crossover. There is no amplifier built into it. So a Magtech amplifier is included as part of the speaker system to use on the woofers. The Magtech comes with either a black or silver face plate and matches the ESL amp so that you can have a matched pair if you wish.
The digital crossover is incredibly flexible and allows you to totally control all aspects of speaker performance. You can alter the crossover point (any frequency you wish), the crossover slopes (6 dB/octave to 48 dB/octave), the filter types (Butterworth, Bessel, or Linkwitz-Riley), the equalization of both the woofer and the ESL, the gains of all channels and of the equalization, the phasing, time delay, and even the time-alignment of the drivers. You can match the acoustics of your room and your personal taste better than with any other crossover. In short, you can get the speakers to sound any way you wish.
The digital crossover is really a small computer. It has a graphic screen on its faceplate that you can use to make adjustments and you can even plug it into a personal computer and make all adjustments from your computer.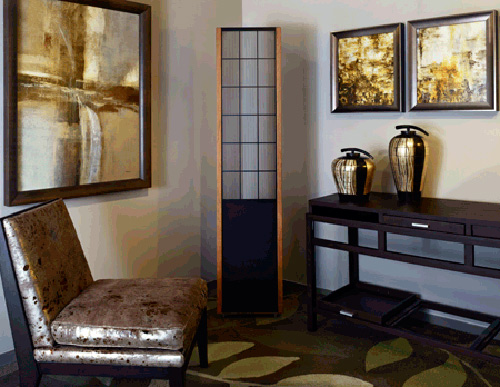 Of course, the digital crossover comes from the factory completely programmed so that you can simply plug it in and the system will be operational. You do not have to make any adjustments. But it is nice to know that you can if you wish.
The digital crossover can be operated both balanced and unbalanced. So you can feed it a digital signal directly (such as from the digital output of a CD player) if you prefer doing so rather than feeding it an analog signal.
The digital crossover has superb specifications, with distortion less than 0.004%, S/N greater than 96 dB, and utterly flat frequency response. It operates at 24/96 (24 bit, 96 KHz sampling). So do not think that it degrades the sound because it is digital. It sounds perfectly transparent.
---
The Absolute Sound has Awarded our Model 10c Electrostatic Speakers
(click image below to view award)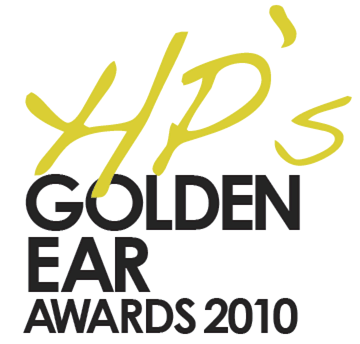 ---
INCLUDED WITH THE MODEL 10 SPEAKERS

(both c and d versions)

1) Includes Magtech Amplifier which matches the style of our ESL Amplifier and our new Pre Amplifier. Both balanced and unbalanced inputs and outputs are standard.
2) Includes Digital Electronic Crossover which allows you to completely control all aspects of crossover / speaker parameters.
This includes:
- Crossover Frequency
- Crossover Slope (up to 48dB per octave)
- Phasing - Equalization
- Filter Types (Butterworth, Bessel, Linkwitz-Riley)
- Various Gains
- Time Alignment
Crossover accepts both analog and digital inputs.
Crossover has front panel graphics display.
All functions are available from both the front panel or by attachment to a personal computer.
Voltage is user selectable for use world-wide.
Highly efficient operation permits the electronics to be left on continually without concern for electricity usage.
---
SPECIFICATIONS MODEL 10
(both c and d versions)
Sensitivity

94 dB

ESL Power Handling

Unlimited for any amplifier intended for domestic use

Bass Driver

10"

Bass Design

Transmission Line

Crossover Frequency

User adjustable
Factory settings 172 Hz, 48 dB/octave slopes, Linkwitz-Riley filter

Frequency Response

20 Hz. to 27 KHz. +/- 2 dB

Magtech Amplifier Power

500 watts RMS per channel into an 8 ohm load
900 watts RMS per channel into a 4ohm load

Both Balanced and Unbalanced Input / Output Connections
Speaker Net Weight (assembled)

Model 10c
80 pounds (36kg)

Model 10d
90 pounds (40.8kg)

Speaker Dimensions

15" W x 18"D x 69" H (38cm x 45cm x 175 cm)

Shipping Weight 5 boxes

Model 10c
Total shipping weight 250 lbs (113 kg)

Model 10d
Total shipping weight 270 lbs (122.5 kg)

ESL Panel Size

15" x 42" (38cm x 106.7cm)

Magtech Amplifier Weight

55 pounds (25 Kgs)

Magtech Amplifier Dimensions

17" wide x 5.5" tall x 16" deep (43cm x 14cm x 40.6cm)
---
OPTIONS TO COMPLETE YOUR SPEAKER SYSTEM
ESL ($4,500)

The first amplifier specifically designed to drive these unusual speakers. You can use this amp on either the bass or the panels.

Magtech ($5,500)

Although this amp was designed to drive magnetic speakers, it has all the power to drive ESL's flawlessly, You can also use this on either the bass or the panels.
---
Two wood finishes available: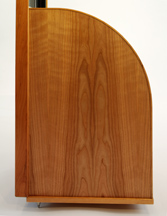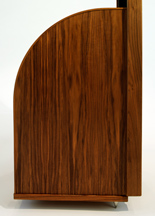 Shown on left is a Model 10 in Natural Cherry & on right is a Model 11 in Natural Walnut
Speakers and Electronics are manufactured in Conifer, Colorado.
Amplifiers
DESIGN PHILOSOPHY

Conventional amplifiers have serious problems when forced to drive

electrostatic loudspeakers

. Roger Sanders has developed the first amplifier specifically designed to drive these unusual speakers.

A magnetic speaker presents a resistive/inductive load to an amplifier, while an

ESL

appears mostly as a capacitor.

We have developed both the ESL amplifier and the Magtech amplifier to meet these demands. Our pre-amplifier has been designed to match the faceplates of our amplifiers.

Amplifier and Preamplifier in Silver
WHAT IS THE DIFFERENCE BETWEEN THE ESL AMPLIFIER AND THE MAGTECH AMPLIFIER?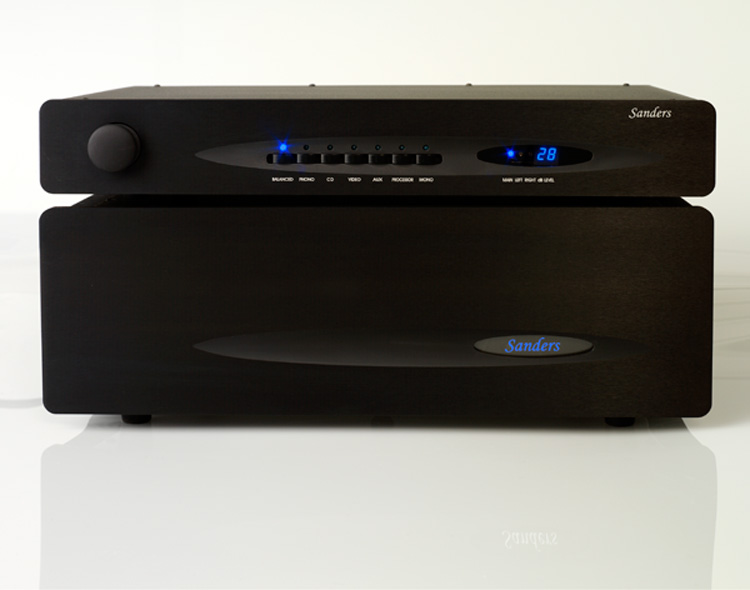 ---
Both the ESL and Magtech amps use the same special amplifier modules that Roger designed to drive electrostatic speakers. The difference between the two is that ESL amps use a conventional, free-floating, unregulated power supply while Magtech amps use Roger's unique, 100% efficient, linear, regulated power supply.

Magnetic speakers draw tremendous current from an amplifier and that causes the internal power supply voltages to fluctuate dramatically in response to the music (typically by about 30%). This reduces the power from the amp and causes the distortion and bias to be modulated by the music.

A regulated power supply maintains stable internal voltages at all times. This is a tremendous improvement over a free-floating power supply. All amplifiers should use regulators, but virtually none do because their designers have not figured out how to make a powerful regulator that doesn't waste vast amounts of heat. Our regulator is unique in that it runs cold and wastes no heat. So we offer virtually the only regulated power supply amplifier on today's market.

Electrostatic speakers operate on voltage, not current. So they don't cause major fluctuations in the internal voltages like magnetic speakers do. But they will still cause some voltage modulation and mains voltage is not stable either. So even electrostatic speakers will benefit from an amplifier with a regulated power supply.
A regulated power supply will provide the best performance, so most of our customers (even our electrostatic speaker customers) opt for the Magtech. We keep the ESL amp in our line-up because it costs less than a Magtech and so represents a tremendous value. So those customers for whom money is a major concern, use the ESL amp instead of the Magtech.

In summary, the Magtech amp is the best for all speakers because it not only has the electrostatic amplifier modules, but it also includes a regulated power supply. So unless money is a major concern where the value of the ESL amp is essential, Roger recommends the Magtech.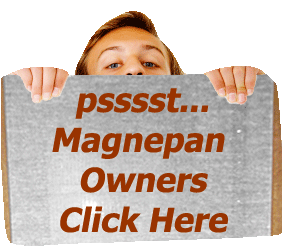 What is the Difference between the old Innersound ESL amp and the new Sanders ESL amp?
The chassis is now aluminum.
All chassis parts are thicker to eliminate resonances.
XLR connectors are genuine Neutrik. They use professional metal sockets with locking devices.
RCA connectors are Cardas with Rhodium plating.
The power transformer is larger and more powerful. This has increased the amplifier's power from 300 watts to 360 watts/channel.
The power transformer is now fully shielded in an aluminum cylinder and potted in epoxy.
A new power supply circuit board is more compact and all wire has been eliminated (except for a 2" piece connecting the circuit board to the speaker binding post).
The amplifier is now completely modular in construction.
The face plate is "cleaner" and less cluttered.
The low-level, input amplifier circuitry has been redesigned to use the latest and best transistors.
The bias circuitry has been upgraded to provide more stable operation.
More powerful and linear output transistors are used to handle even more power and reduce distortion.
The new circuitry and transistors allow the use of less bias so that the amplifier runs even cooler than the original amp.
The speaker binding posts are placed at 45 degrees for ease of routing stiff speaker cables.
ESL Monoblock Amplifier
Price: $9,000 pair

The Sanders Sound Systems ESL amp is now available as a Monoblock power amplifier. Performance is similar to the ESL amplifier with the exception of dramatically increased power output capability! As with the Sanders Sound Systems ESL amplifier, the ESL Monobloc offers superb build quality, superlative sonics with extremely high output capability.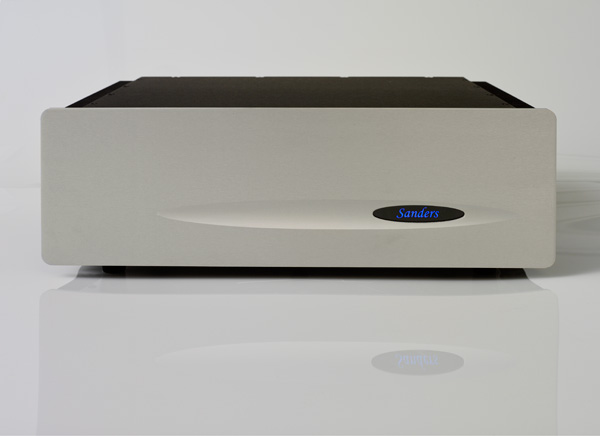 FEATURES
The quality of construction is typical of the finest components made today

All exterior and interior aluminum parts are anodized. Steel parts are powder-coated

Resistors are high reliability, precision metal film, 1% tolerance.

Capacitors are of the highest quality, and none are used in the signal path.

Connectors are gold plated. Both balanced and unbalanced connectors are standard.

Wire has been eliminated wherever possible. Where wire is necessary, it is silver-plated copper, 141 strand, 18 gauge, with silicone insulation.
SPECIFICATIONS OF ESL MONOBLOCK AMPLIFIER
Power

1000 watts RMS into an 8 ohm load
1600 watts RMS into a 4 ohm load

Bandwidth

DC through 100kHz

Class of Operation

Class AB

Slew Rate

500 Volts/microsecond

Input voltage required for full output

2.2 Vrms

Input Impedance

100 K unbalanced

1 K balanced

Gain

26dB

Noise

More than 120dB below rated output

Damping Factor

Greater than 600 into an 8 ohm load

THD

Less than 0.005%, 20 Hz - 20 KHz.

Voltage

Voltage is user selectable for use world-wide.

IMD

Less than 0.004%, 20 Hz - 20 KHz
Weight

55 pounds (25 Kgs)

Dimensions

17" wide x 5.5" tall x 16" deep (43cm x 14cm x 40.6cm)
Speakers and Electronics are manufactured in Conifer, Colorado.
Magtech Amplifier
Price: $5,500
with a linear, voltage regulator
The popularity and success of the Electrostatic Amplifier (the "ESL Amp") for driving electrostatic speakers led to many requests for a companion amplifier that was specifically designed for driving conventional magnetic speakers. Two years in development, the Magtech amplifier is that amplifier.
The Magtech Regulated Power Supply White Paper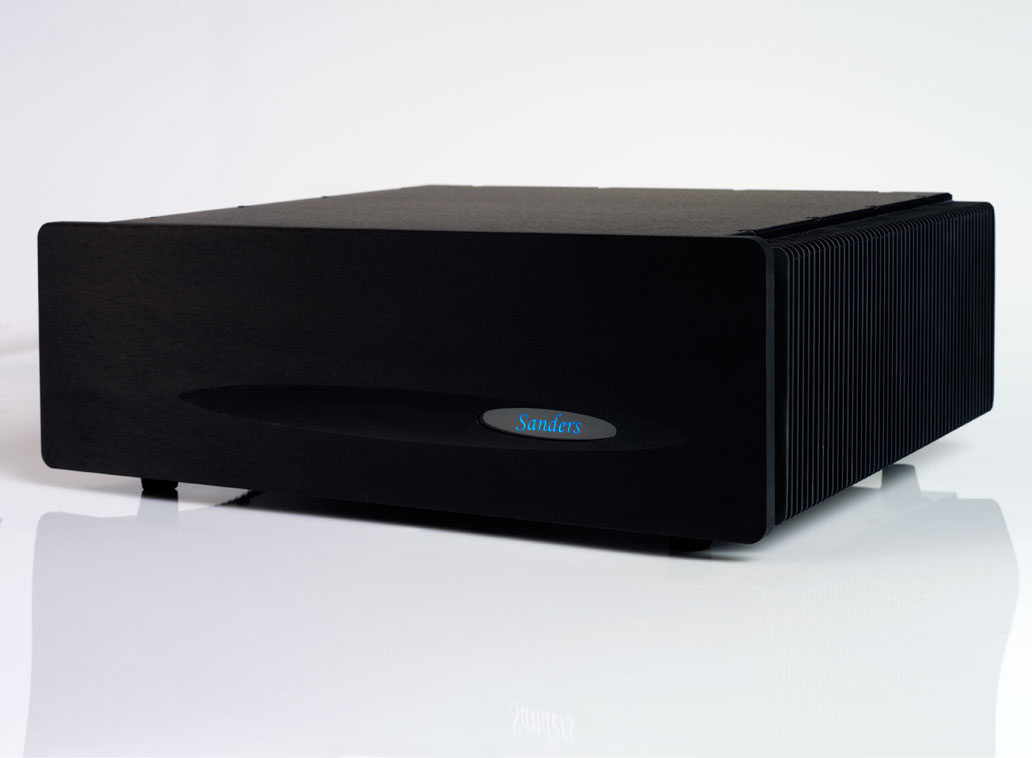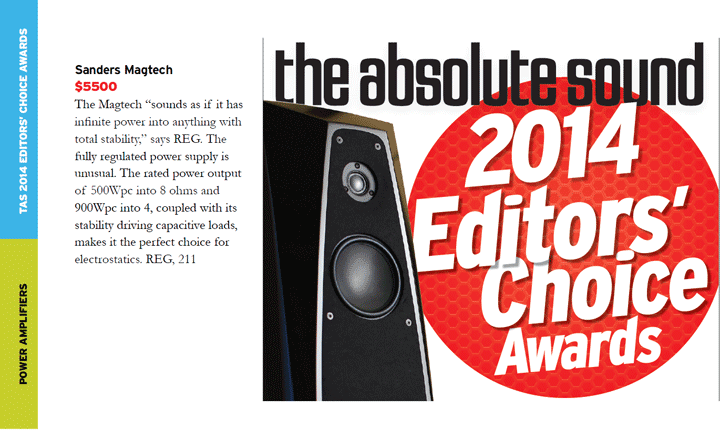 DESIGN PHILOSOPHY
Magnetic speakers differ from electrostatic speakers in one fundamental way -- they require massive amounts of current and power. This causes the power supply voltages in an amplifier to change dramatically (typically by 30%) between idle and full power.
Electronics have their lowest distortion and optimum performance at a specific design voltage. If the voltage varies, the amplifier's performance will suffer.
An additional problem in amplifiers is that they require bias to eliminate crossover notch distortion and determine their class of operation. The bias will vary as the voltage does, which will further reduce performance.
An amplifier's voltage will fluctuate wildly as dynamic music is played. This causes the amplifier's distortion and bias to vary constantly and fail to meet its full performance potential.
As if all these problems are not enough, as an amplifier's voltage sags under load, the power it can deliver is greatly reduced. If the voltage would remain stable, the amplifier could produce much more power. Since most audiophile speaker systems require several hundred watts of power to avoid clipping and compression of the dynamic range, power is extremely important.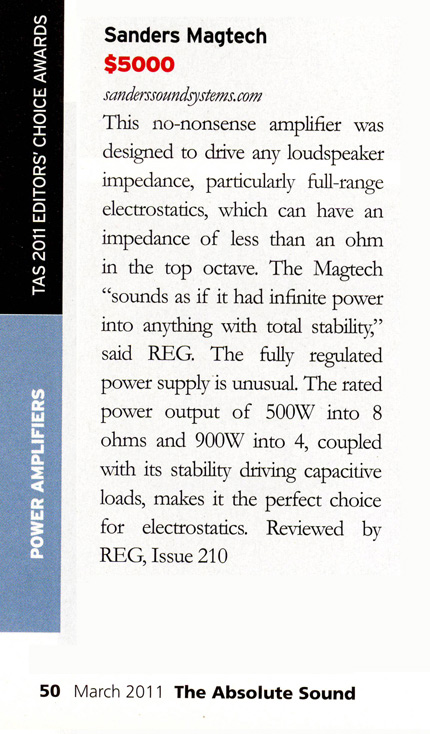 THE SOLUTION
All quality, line-level electronics use voltage regulation in their power supplies to produce a stable voltage, regardless of load or the mains voltage. Audiophiles would not consider using a source component that did not have regulated power supplies. So why use amplifiers with unregulated supplies?
The main problem is heat. Amplifiers operate at much higher voltages and currents than line level source components. These higher voltages and currents forces conventional regulator designs to waste large amounts of energy, which wastes expensive electricity and causes the amplifier to get very hot.
Also, many regulator designs radiate RF (Radio Frequency) energy when switching high currents and voltages. This RF gets into the amplifier's electronics and can cause instability, oscillation, and noise. As a result of these problems, modern power amplifiers do not use regulated power supplies and fail to take advantage of the benefits available from doing so.
Sanders has solved these problems by developing a voltage regulator that is essentially 100% efficient. There is no heat dissipated by the regulator system. There is no high-power/high-voltage switching that causes heat generation or RF problems.
The regulator in the Magtech amplifier maintains a stable voltage regardless of load or reasonable changes in the line voltage feeding the amplifier. It runs stone cold, produces zero RF energy, and is simple and reliable.
Unlike other amplifiers, the distortion in the Magtech amplifier is virtually unchanged regardless of power level. The bias is stable regardless of load.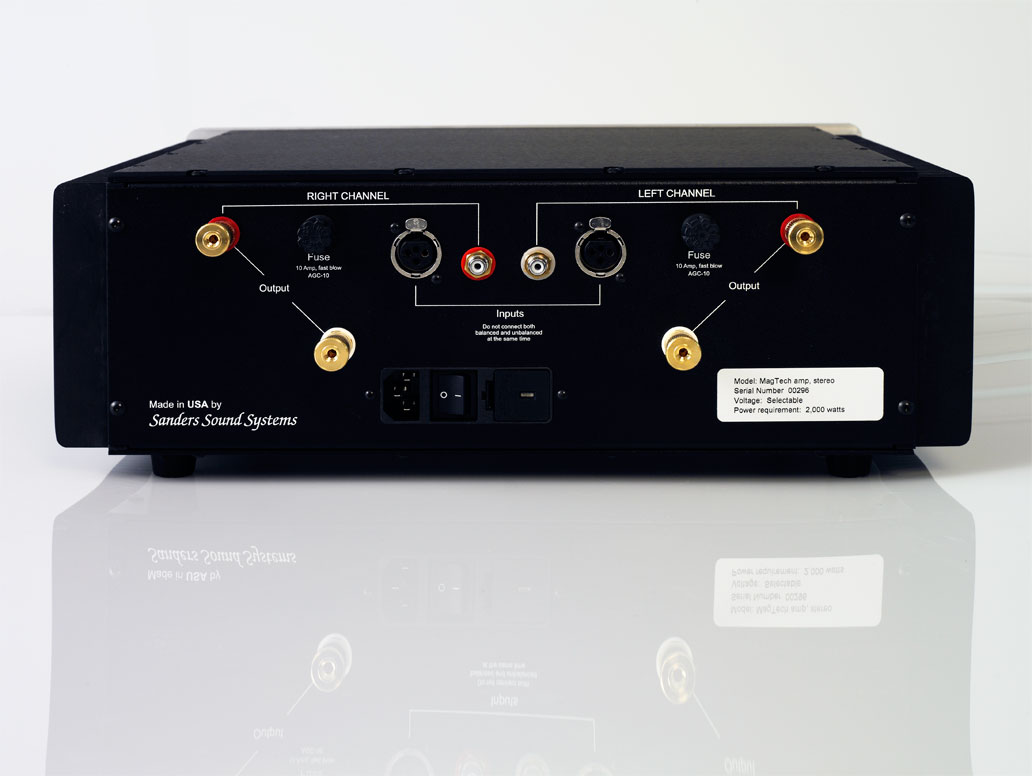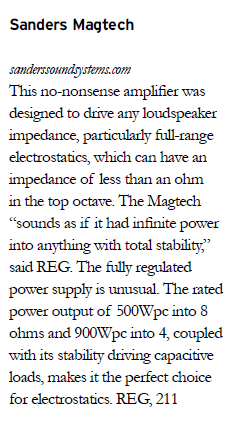 The regulator makes it possible to obtain a 50% increase in power over the same amplifier operated unregulated. In its stereo form, the Magtech will deliver 500 watts/channel into an 8 ohm load and 900 watts/channel into a 4 ohm load.
The Magtech is built into the same chassis as the ESL Amp, so it is compact enough (17" wide, 5-1/2" tall, 14" deep) to place on a shelf or into a cabinet. It is also light enough (54 pounds) to be picked up. Like the ESL amp, it runs very cool and may be left on continually without concern for power usage.
The Magtech amplifier also uses the same advanced technology that makes the ESL amp able to drive the most difficult loads without performance-degrading, protective circuitry. The Magtech amplifier features a linear voltage regulator. The result is a compact, yet extremely powerful amplifier that is ideally suited to driving the most difficult magnetic speakers.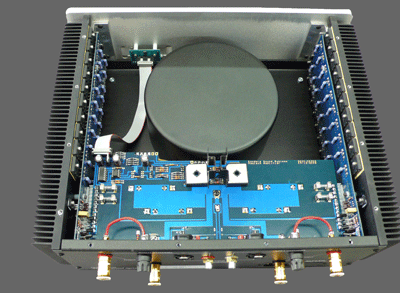 SPECIFICATIONS OF MAGTECH AMPLIFIER
Power (Stereo Version)

500 watts RMS per channel into an 8 ohm load
900 watts RMS per channel into a 4 ohm load

Bandwidth

DC through 100kHz

Class of Operation

Class AB

Input Impedance

100K unbalanced, 1K balanced

Input voltage required for full output

2.2 Volts

Noise

More than 110dB below rated output

Gain

26dB

THD

Less than 0.01%

Damping Factor

Greater than 600 into an 8 ohm load

Voltage

Voltage is user selectable for use world-wide.
Weight

55 pounds (25 Kgs)

Dimensions

17" wide x 5.5" tall x 16" deep (43cm x 14cm x 40.6cm)
Speakers and Electronics are manufactured in Conifer, Colorado.